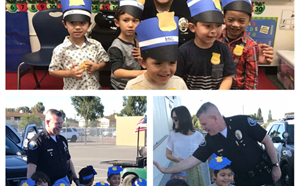 Carver's Early Childhood Education students have been learning all about community helpers, including their occupations and roles in our neighborhoods. Teachers Ellie Torres-Gonzales and Sarah Lagerlof, went the extra mile to organize visits from San…
Principal's Message
Dear Carver Preschool/Early Childhood Education Center Families,
It is with great enthusiasm and pride that I write this letter of introduction as the new principal of the Early Childhood Education Center at Carver and Heritage Preschools. My passion for education and supporting the success of all of our students has been molded over my time serving as a general education teacher, special education teacher, special education administrator, and intermediate school assistant principal. I am honored to have the opportunity to serve as a part of this great community of students, staff, and families. I truly look forward to collaborating with all of our stakeholders (teachers, students, and families) in continuing to provide a safe and rich learning environment for all. We view our role at Carver as the starting point for our students' educational careers. I am a firm believer that a strong home/school connection is essential to establishing an early positive educational experience.  I look forward to a great year ahead of us!  Please do not hesitate to contact me should you have any questions, concerns, or ideas that you would like to discuss.
Kindest regards, 
Brian Ball, Principal
Our School
The Early Childhood Education Center (ECEC) at Carver serves preschool-aged students residing within the Garden Grove Unified School District boundaries and provides access to high-quality education that fosters the development of communication, vocational, social-emotional, and academic skills in a safe and nurturing environment. Our programs are focused on preparing our students to be successful learners as they transition to kindergarten and beyond!